Dual Air Manifolds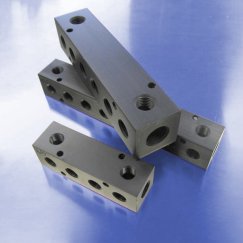 Dual Air Manifolds feature two separate manifolds in one block. This configuration allows two independent flow paths (ie vacuum on one side, pressure on the other) to be plumbed at the same location. Two through 5-station manifolds are offered for installation and plumbing convenience.
Features include:
Precision machined aluminum
Black anodized aluminum for corrosion resistance
Input ports: 1/4 NPT (F) & 3/8 NPT (F)
Output ports: 1/8 NPT (F) & 1/4 NPT (F)
Contact us for more information about our Dual Air Manifolds. Can't find what you're looking for? Request a Quote for your custom requirements.
Pneumatic Components & Systems Manufacturing
Pneumadyne is a manufacturer of standard miniature pneumatic manifolds. We can also assist you with design and engineering of custom pneumatic components or full pneumatic control systems.